BSD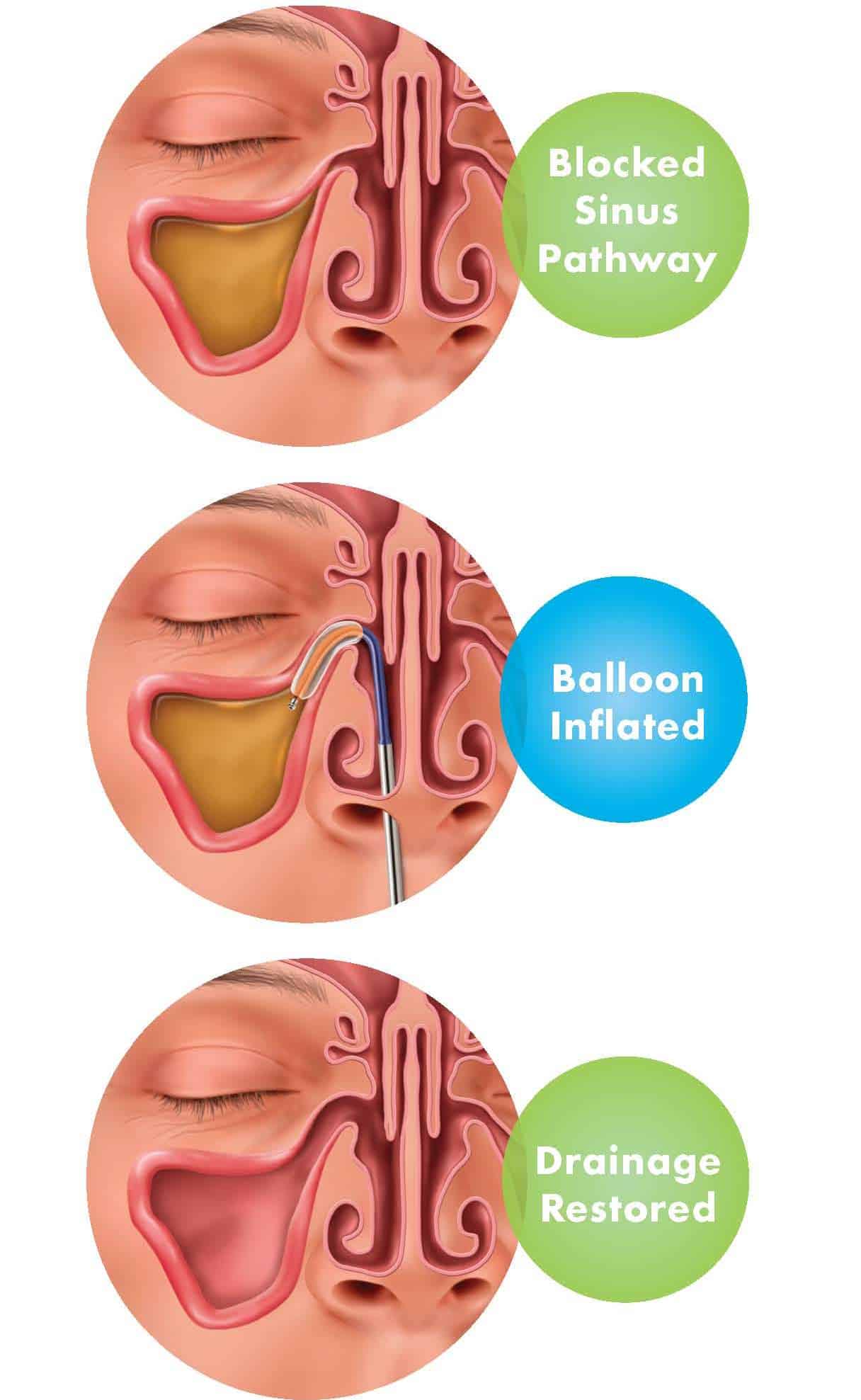 Proven, Simply Sinus Procedure
Balloon Sinus Dilation (also known as Balloon Sinuplasty) is proven, simple sinus procedure designed to reverse the cycle of sinusitis (sinus infections.) It's performed in our office and requires little to no downtime. In fact, most of our patients return to normal activities within a day or two!
Medical Advancements
Prior to 2005, traditional Functional Endoscopic Sinus Surgery (FESS) was the only option available when medications were not enough to treat chronic sinusitis (sinus infections.) FESS involves removing tissue and bone, is performed under general anesthesia in a surgery center or hospital, and recovery can be painful – taking up to 4 weeks.
In 2005, Balloon Sinus Dilation was FDA approved and came from the field of interventional cardiology, where tiny balloons have been used for years to gently dilate blocked arteries. The goal of Balloon Sinus Dilation is similar – to open blocked sinus passages to allow for adequate ventilation and restore natural drainage. In turn, sinus infections are dramatically reduced or eliminated completely, allowing patients to get back to enjoying life!
How Effective is Balloon Sinus Dilation?
In many well designed clinical studies, Balloon Sinus Dilation was shown to have a 94% success rate. This means we anticipate you will only need the procedure once.
In 2013, Dr. Gould and several other sinus experts from across the country were principal investigators in a pivotal study called REMODEL. REMODEL, published in the American Journal of Rhinology and Allergy, was the first randomized, multi-center clinical trial to compare traditional endoscopic sinus surgery to in-office balloon sinus dilation. REMODEL demonstrated
 How Does Balloon Sinus Dilation Work?
Balloon Sinus Dilation is performed conveniently in the office, with local anesthesia, and takes less than 20 minutes! A tiny catheter is inserted into the nose and then into the opening of the narrowed or blocked sinus(es). On the end of the catheter is a balloon filled with saline. Once inside the sinus opening, the balloon is dilated (or inflated) for about 5-10 seconds. The tiny balloon gently opens and reshapes the sinus passages, restoring natural drainage and adequate ventilation. This is essential for preventing or lessening sinus infections.
A National Center of Excellence
Since 2010, Dr. Gould has performed thousands of Office Balloon Sinus Dilation procedures and is known by his peers as a pioneer. Regularly, ENT surgeons travel across the county to the St. Louis Sinus Center to observe and learn his techniques Office Balloon Sinus Dilation, as well as other cutting-edge procedures. As a result of his extensive training initiatives, he is recognized as a National Center of Excellence.
Learn More About Balloon Sinus Dilation, Watch Our Video Animation